NOVEMBER
So we supported Jeffrey Lewis on November 3rd,

(!!!!!!!!)

an honour for which I lobbied promoter Jonny Ackroyd after having back in March received an email of praise for my album (i.e. The Wayward Buskers) out of the blue from the great man himself (Jeff, not Jonny). I had supported him solo (both of us playing solo) in 2006, a much more low key gig, and I can't claim that that was any less of a big deal for me at the time (rather more in fact). But it was a long time ago. At some point Jonny was boasting (rightly so ) of how many times he had put Jeffrey Lewis on and I gently chided him for not once ever having had the Seven Inches support him before on any one of those occasions. (If I say so myself we seem a natural choice). He claimed to be surprised by this circumstance, and hadn't realised it to be the case. Oh well, better late than never. We played a characteristically short fast-paced set, including the full band version of "A New Friend" (which I played triangle on). During "Open-ness and Honesty" we got people to hit the lovingly home-made pinata which we had been presented with earlier, a two-headed turkey. This was the show I showed off my new cardboard keytar. Jeffrey Lewis loved us, or so he alleged. "What a band" he said on stage. He seemed shocked when I told him I had no more gigs or anything lined up till Christmas, though I justified it (to him, not to myself) when I said I had to finish my comic in time for a comics convention. Our old friend Nan Turner (see entries passim) was playing keyboards for him, too. It was a great Jeffrey Lewis gig (though appalling sound). Aside from any personal bias, of the three times I saw Jeffrey Lewis in 2011, this was the best.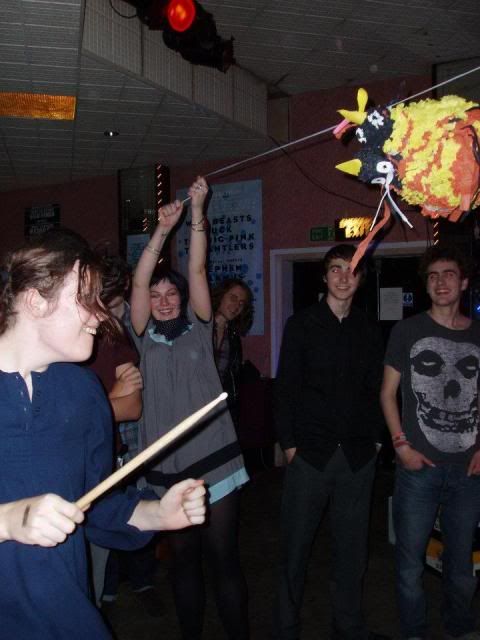 photo courtesy Melanie: pinata courtesy Dom and Fiona
Which leads me on to Sea Mouse #2 which was finally completed in November, months later than planned, with my own contribution being one of the more grievous latecomers. I just struggled with it so much, while never really prioritising drawing this year, AGAIN. I am quite pleased with the drawing in the end, though I wish I had drawn some more pages to fit more of the story into one issue, thus hopefully engage people a bit more. More about Sea Mouse 2 here. For newcomers, it's the anthology comic I edit, contribute to and sell.
I had the day off the day I collected it from footprint, so I was also able to see Billy Bragg play at Occupy Leeds, which was really good. (Though I'm not even a slacktivist. It's terrible) http://www.youtube.com/watch?v=KVuIijfPcU4
The next day was the Thought Bubble comics convention in Leeds, at which
pygmyking
and I had booked a table to sell Sea Mouse and his solo comic Killjoy. I also brought along some issues of Dishes. I wish I had thought in advance to make more merchandise (printed t-shirts, bags, original artwork and craft). I had never been before and I was disgruntled that there was a hefty entry fee, thus discouraging casual punters. but I did have a good time, and it was interesting to see what everyone else was up to. the highlight was getting my picture taken with Posy Simmonds, one of my favourite cartoonist/graphic novelists. Our table was also next to where Dave Gibbons was signing, but this wasn't such a thrill as the art was never my favourite thing about Watchmen.
Here's what I bought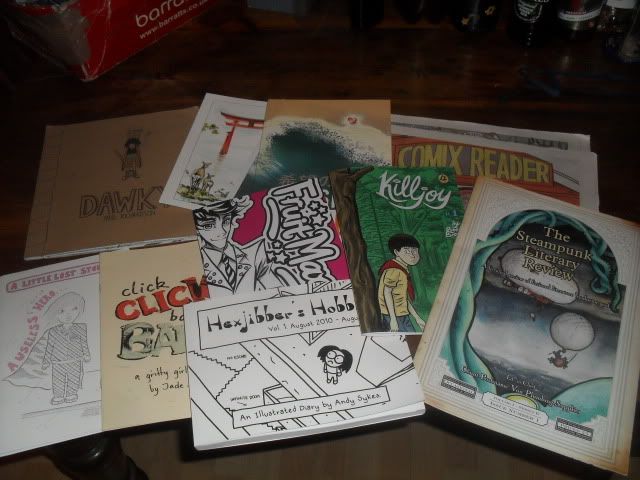 more or less clockwise from top left:
Dawky by Jane Richardson; Spirit of Hope, Japan and New Zealand Tsunami benefit anthology (w/postcard); Fruit Machine by Mimi*; Killjoy by Robert Brown; Comix Reader broadsheet anthology, Steampunk Literary Review by Doctor Geof; Hexjibber's Hobbies by Andy Sykes; Click Click bang Bang by Jade Sarson*; A Useless Super Hero by MT
*Our Table neighbours

All in all I made a loss, (Rob did better) but at least both issues of Sea Mouse made it into some homes it wouldn't otherwise have. Rob's blog about it all. (which features the Simmonds and Gibbons photos, so I've omitted them in this blog post)
On the Saturday night we skipped the official party so I could drag Rob to the Packhorse for an excellent show of Madame Laycock and her Dabeno Pleasure, Devil's Jukebox and David Broad. The first two of those bands each feature a different moonlighting band member of the Seven Inches. Then we headed to town for a clubnight called "Other Animals". I only mention this as an excuse to show off this photo of "Sparrow" from ML&HDP:



I discjockeyed once more at Don't Falter in November: http://open.spotify.com/user/marksturdy/playlist/20PXwAQZB6fNE55eXjaa4P
And actually, while I remember, a marathon couple of sessions in September:
http://open.spotify.com/user/marksturdy/playlist/5jiBGi61qKDHp2ruKeksx6
http://open.spotify.com/user/marksturdy/playlist/3CyLvrwP89tuXiA3cb1dBX

DECEMBER
I went to Rachel Dean and Matthew Bellwood's Christmas show in Theatre Int' Mill in Bradford which was spectacular. Rachel's varied solo dance routines, Matthew's spooky stories, and as a free bonus Gareth Cutter showed up again as compere. Gareth's main big idea was to re-enact The Snowman, with two volunteers to dress up as the little boy and the snowman. In Bradford, I was the little boy, and got to fly by the simple expedient of lying on my stomach on a swivel chair. I hope someone somewhere has some photos of it. (The link is to Gareth's own retrospective blog post about it).

Wonderful art opening by Alice Rix (who contributes to Sea Mouse and who you can see above gearing up to strike the pinata) and Kasia Breska. This was in Kasia's studio in an office building but felt a bit like a house party. It coincided with The Great Birthday Drinks Pile Up in which I tried to go to everyone's birthday drinks on the same night.

Then A Grand Day Out with a short and bracing walk from Grindleford to Hathersage for the Winter Solstice with our gang of friends. Prime instigator Woodknot has the full story and pictures here.

On 19th December Ian Cockburn and the Whole World played The Whatevers' Christmas bash. I panicked somewhat about there being four bands on the bill and the strict curfew, so I made sure we started early and we only played five songs. Very sadly it was too early for a lot of people who missed some or all of it.
the band was me, Shaun, Emil and Anna, and the set list was
I Thought We Had It Good (which I had also guest-vocalised with Anna at her first solo gig not long before)
Madeleine (Brel; I thought it was too good at Lower Woodstock to have only played it the once)
Winter Solstice Carol (not played live since the first seven inches gig in Jan 2002, almost ten years earlier)
Couples Holding Hands
Flanders and Swann (my tribute to the eponymous musical personalities)

The other bands besides the Whatevers (who I will hopefully be doing a collaboration with soon) were Bordeauxxx (pronounced Bordeaux) and Charles of the Ritz who were wicked. We all got on stage at the end to improvise a noise version of a Christmas Song and throw instruments around. For shame.

Bordeauxxx recorded some snapshots of it for posterity (Ian Cockburn and the Whole World footage at 00.29, )
http://www.youtube.com/watch?v=p0_Woi_7Ihs
For Christmas I went back to Shropshire as usual with my mum and brother and Hannah. I saw more new babies, had more Shrewsbury drinking time, and went for the usual Christmas day walk. Saw the film the Red Shoes, overindulged in food and pressies.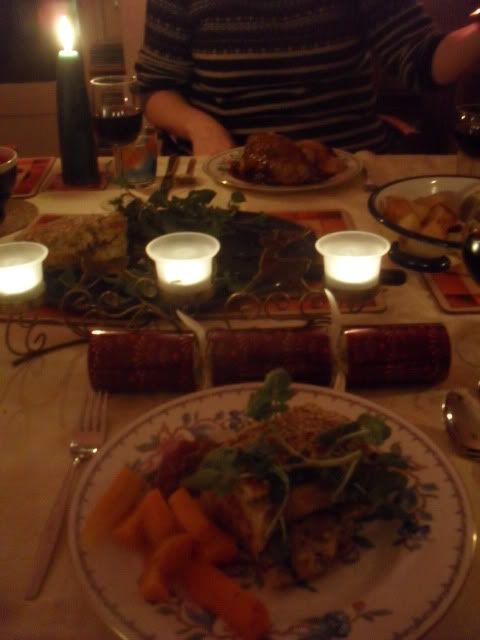 If you would fain see me joyful, dear reader, Feast thine eyes on the tableau below.
Back in Yorkshire, I went to a Todmorden NYE party that featured crazy scenes of wrestling. The neighbours were lighting Chinese lanterns: I tried to light one and found it was not so easy as I had supposed. But then, I was very drunk. good job I didn't burn the street down.
Happy New Year!