JUNE
My brother and his girlfriend came to stay for a Korfball tournament. thus see my first ever korfball games. They later come and see me DJ at Don't Falter. Spotify playlist of my DJ set this time: http://open.spotify.com/user/marksturdy ... qaWbLHl4El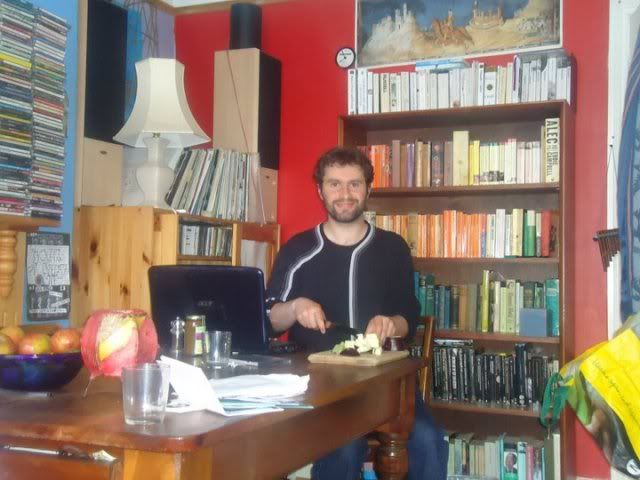 Featured in a famous Norwegian newspaper:
http://www.dn.no/d2/reise/article2150286.ece
JULY
Lower Woodstock 5


A scratch Seven Inches acoustic line-up (minus Tim, Emily and Rachael but plus Anna on accordion) Premièred "A New Friend", and also played "Elodie", "Friends Don't Mix"http://www.youtube.com/watch?v=Ioqrv3By2J0&feature=related and "I Just Heard The News"http://www.youtube.com/watch?feature=player_embedded&v=Lw9hYQ4Sqcs and- a first for the Seven Inches- cover versions of Jacques Brel's "Madeleine" and They might Be Giants' "Birdhouse In Your Soul". My mum sang "Music For Travel Agents"http://www.youtube.com/watch?feature=player_embedded&v=hGVs8-wch_Q

The other acts were my dad, Tonieeee Clay, Gareth Cutter, Owen the French Defence, Idris Davies, Anna's solo set and Dave Davies and the Davieses. But of course, it wasn't all about the music, there was also food, camping, the inevitable bonfire and lots and lots of infants everywhere this year.


This was closely followed by Neil's birthday party where we played several lawn sports, formed several human pyramids and ended with the traditional bonfire.

Late July I went to the Red house in Sheffield, on of my favourite venues, for the classic line-up of Best Friends Forever, The Middle Ones and the Parallelograms (You're not going crazy if you think you've read this paragraph or seen this photo before; I initially put it in the previous entry by mistake, mixing up two Middle Ones concerts.)

AUGUST
EDINBURGH
After skipping last year's Edinburgh Fringe as I felt stressed for some reason and also the previous year's seemed too recent, I went for the second time in August 2011. I didn't see quite so many mindblowing things this time (no Daniel Kitson for starters), but it was well worth it.
Comedians: Richard Herring, Josie Long, Alex Horne, Tim Fitzhigham, Rich Fulcher (Bob Fossil in the Mighty Boosh), Jigsaw (a sketch troupe comprising Nat Luurtsema, Dan Antopolski and Tom Craine), Sarah Benetto's comedy storytelling night featuring (on the night we went) Tom "Bleak Expectations" Allen, and Francesca Martinez. There's a lot I regret missing but the only thing I regret going to was an appallingly unfunny duo called The Gentlemen of Leisure.
Plays: Cul-de-sac (black comedy set in "Middle England"), Chaos (possibly also qualifies as black comedy, three Scottish female actors playing lots of different parts). No fond memories of either, though my mum loved the latter.
Other: My friend Matthew Bellwood's storytelling show, South African popular singing group Soweto Ensha
Not even to do with the fringe, the festival or any of the other concurrent events: Saw my mum, brother, cousin, my brother's girlfriend, my housemate who was working there, and many old friends. Went to the Queen's Collection and the National Gallery of Scotland. Spent some time walking and climbing in Holyrood park trying to write songs in my head.


One day my mum and I got a bus to Portobello, a seaside suburb, where a young artist that my mum knows (from her singing adventure in Georgia) keeps a studio, to have a look at his paintings, see another artist friend of ours, and generally enjoy a seashore rest from all the hubbub.
Lots of food and socialising, which in many ways made up for not having seen so many great shows. Probably the thing I did see that sticks in my head the most, months later, is Josie Long's very political and personal show.
It may seem that my musical performing life never left the Fox and Newt (until recently unheard of as a venue in Leeds). I played there again as a woefully unprepared solo act (due to Edinburgh, I claimed.) I had meant to play six new songs, specially completed for the night. I only ended up playing two, a slight novelty one and an unfinished rewrite of a song from the January The What I Wanted To Dos album. Although I don't think I went down that badly all things considered, still there was non-stop talking that unnerved me so much that I gave up playing original material at one point and played "Girlfriend" by Jonathan Richman. I should have just ignored the talking. It was a very relaxed birthday gig featuring The Hipshakes and two newly formed friends' bands, all excellent.
In late August we planned to climb the three peaks of Yorkshire, Emil and I, along with Anna, Helen and Glen. (Whernside, Pen-y-Ghent and Ingleborough). In the end we all climbed Pen-Y-Ghent, then after a cheese-centric lunch we climbed Ingleborough (without Helen and Glen) then, having run out of daylight went home. It rained a bit and it was generally wet and I fell in a sink hole at one point. Got some beautiful photos in the afternoon though.

Emil and Anna returned to climb the missing peak Whernside the following week. later Anna did the whole lot again leading a team for charity, and Emil went and did all three of them in the one day on his own, then capped it all by coming to dance at a club in Leeds for a bit.